So will anything change with the Pilots?

Probably nothing too major, but I wonder if there'll now be opportunities to buy gear with current/former player names on them. Get your Spoelstra or Pooh or Chris Austin jerseys with partial proceeds to the player?

Dean Murdoch

All-WCC





Number of posts

: 1713


Location

: SK


Registration date :

2015-01-20



Dean Murdoch wrote:So will anything change with the Pilots?
I think so, eventually.
The ability to profit from one's name just went into effect at midnight, and already we are seeing student-athletes from around the nation in various sports beginning to strike deals with various causes/organizations/businesses.
For the MBB Pilots it is probably going to take a while because everyone is literally new in town.  But once the guys start winning and people start showing up to see them, the players will be able earn some money from their "celebrity" status.
Johnny Manziel, the former Heisman Trophy winner who was once punished for signing autographs while at Texas A&M, was providing advice for current student-athletes to capitalize in every way possible.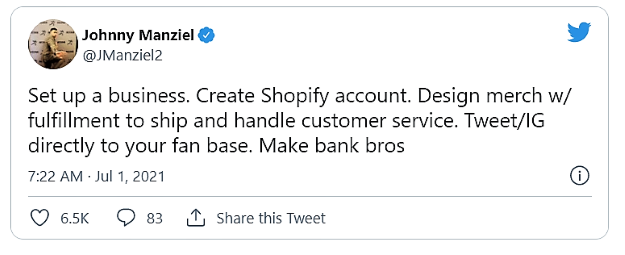 And making bank is not just for the bros, I believe there is clearly a path for profit for some of the women's basketball and soccer players...perhaps volleyball too.

DoubleDipper

Pilot Nation Legend





Number of posts

: 10778


Location

: Flying, Golfing, or at the Game


Registration date :

2011-11-03



Fox Mulder likes this post
In response to this and the post in the "General Sports" section…

I think the NCAA and many member schools have just looked completely silly throughout this whole lawsuit and NIL campaign. Change was inevitable and rather than prepare (they had to have seen this coming for over a decade) they stuck to their amateurism myths. They have now scrambled last minute to make it seem like they are okay with this by creating last minute policies in response to state laws and the lawsuit. Egg all over their faces.

Dean is right that likely nothing changes much for us. Athletes will now be able to generate income off their name, image, and likeness, and I am fine with that. In fact, I support it. This likely does not change the distribution of talent between schools and conferences at all (per most sport economists like Fort). The already big and powerful schools are the ones who will implement NIL programs first. Guess which two WCC schools already have publicly shared NIL programs in place? Gonzaga and BYU. Link below to their press releases.

Gonzaga: https://gozags.com/news/2021/6/22/gonzaga-athletics-gonzaga-introduces-next-level-nil-program.aspx

BYU: https://byucougars.com/story/athletics/1296873/byu-institutes-nil-policies

I should hope we are preparing our own program. In fact, I believe that this could provide a benefit to us if we play it right. Maybe we could attract local talent who already have cachet from their high school days to stay local and cash in on their stardom that would otherwise disappear if they moved elsewhere. Who knows? I'm eagerly awaiting what we come up with for NIL. If nothing else: it's a signal to potential athletes that we are paying attention to their needs and it allows them an opportunity to exercise some of what they learn in the classroom to real life.

We've already seen everything from women's basketball players to tennis players to gymnasts taking advantage of this in the first day, so it's not limited to just the big sports.

Rant over!

Edit (late add): two steps to take maybe by the university and students to get ahead: 1) hire/vet accountants and legal experts to aid students with the business, and 2) start making connections with/vet businesses we can trust to work with our students.

ExpatPilot

Starter





Number of posts

: 764


Location

: Outside the US


Registration date :

2015-03-12



Another aspect of this new situation:
https://www.msn.com/en-us/sports/nba/international-student-athletes-could-lose-their-visas-because-of-the-ncaa-s-new-endorsement-deal-policy/

up7587

Starter





Number of posts

: 987


Registration date :

2021-06-10



---
Permissions in this forum:
You
cannot
reply to topics in this forum