I know The Geez loves lacrosse, so when I was on campus recently and saw a bunch of guys playing the game, I found it was a game I had no understanding of. But after about an hour I really got into the game that has both speed and finesse, and a few collisions too; which I like.
After talking to some of the players I found our Pilots Lacrosse Team travels around the west and competes in a league. Who knew??
From their website (http://orgs.up.edu/uplax/index.html):
The University of Portland Men's Lacrosse club competes in the MCLA and is a member of the PNCLL Division II South Conference. As a fourth year program, we are looking to build on the previous season. Our roster is comprised primarily of freshman and sophomores; currently we have over 20 student athletes on our roster. Our home field for practices and games is Prusynski Field, a new turf field facility complete with practice lighting, backup netting, and lacrosse specific lines. We view ourselves as a virtual varsity program, striving to compete at a high level.
They play tonight at Concordia. Come out and see them, it's fun. Here's the remainder of their schedule for 2012:
Tue Mar 13 7 pm @ Concordia, Portland
Wed Mar 14 7 pm @ Biola
Sat Mar 31 1 pm @ College of Idaho
Sat April 14 1 pm Western Oregon @ Prusynski Field (UP)
Sat April 21 1 pm Willamette @ Prusynski Field (UP)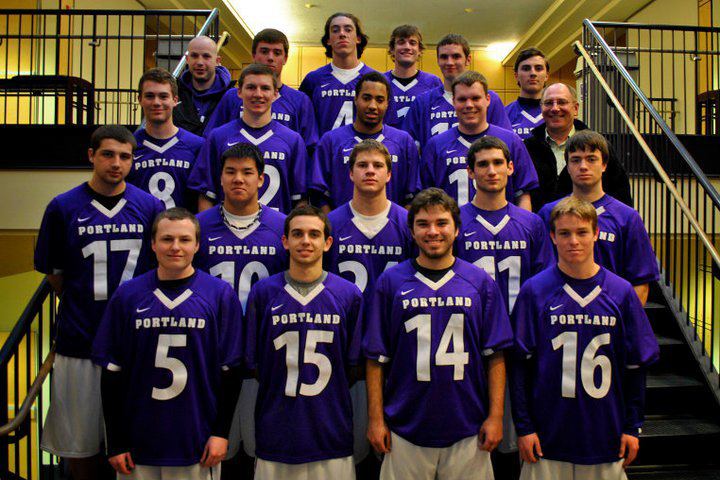 DoubleDipper

Pilot Nation Legend





Number of posts

: 8623


Location

: Across the Bridge


Registration date :

2011-11-03



It's a sport God invented just for me.

The coach hands you a stick, then tells you "go out and hit somebody".


Thank you, Lord.

Geezaldinho

Pilot Nation Legend





Number of posts

: 11043


Location

: Hopefully, having a Malbec on the square in Cafayate, AR


Registration date :

2007-04-28



Just so you know... My affection for Lacrosse comes legitimately.

The high school I graduated from holds its homecoming during Lacrosse season. The HS team from 2008 went 64-0 over four years, and most of the players of that team were stars of NCAA final four teams three years ago. Most still are stars of their teams. ( a couple had um... Deportment issues)

I was a founding member of my college Alma Mater's lacrosse team, and was an assistant coach there after I graduated back in the stone age.
The current coach is the winningest coach in ncaa Lacrosse history. The men's team is currently ranked #1 in the nation in D3 and is currently unbeaten. The women's team won the National championship last year in D3 and is currently ranked #1 this year, is undefeated, and just garnered 19 out of 20 first place votes in the coach's poll.

I'll be back East this spring to watch them both make another run at it all.



Geezaldinho

Pilot Nation Legend





Number of posts

: 11043


Location

: Hopefully, having a Malbec on the square in Cafayate, AR


Registration date :

2007-04-28



---
Permissions in this forum:
You
cannot
reply to topics in this forum