To the six senior members of the class of 2007 mentioned above, I say "Wow - what a job well done. And thanks for the memories (to borrow from Bob Hope). You came to us as nervous freshman. (Except Steph, who was born calm and in control.) You helped win our 2nd national title in 2005. You gave us everything you had as juniors last year, and now you have elevated your play as seniors to the point where anything could happen."

This is a special week as our seniors get ready to make their final regular season appearance at Merlo on Saturday night against LMU. I plan on standing there, perhaps in the rain, yelling my fool head off for them. Because they more than deserve it.

Enough from me. I am certain there are plenty of visitors to this forum who would love to hear your story's, anecdotes, funny moments, heartbreaking moments, etc., that you may have had at some point during the past four seasons. I have a feeling that maybe even the seniors themselves will be tipped off to this thread and may read this themselves. Let's really give them all the love we can, and tell them how much they mean to the program as well to us, as individuals.
Playmaker





Number of posts

: 1238


Age

: 77


Location

: Portland


Registration date :

2007-09-14



I don't know about the others..

I'm in total denial right now. I plan to watch the next game (and whatever playoffs we get to see at home) and then head to Texas to watch them win it all.

Of course, I'll be watching and savoring what these players have brought to the program.

Ain't saying goodbye yet- once a Pilot, always a Pilot.
Pilot Nation Legend





Number of posts

: 10637


Location

: Hopefully, having a Malbec on the square in Cafayate, AR


Registration date :

2007-04-28



In 1998, the team's MVP award was, for the first time ever I think, handed out to the entire senior class (Sharpe, French, Eaton, Stiles, Johnson, and Koleski). The staff could not pick one player that stood out, because the entire class stepped up and consistently demonstrated their importance to the team, and the team's success that year. They were a truly special group of players.

I would hope the staff take a similar tack this time around, too. I don't think you can pick one player who has truly had more of an impact on the team than her teammates; this entire class has demonstrated their importance to this team time after time, and each has had a profound impact on the success of this team over the past several years.
Bench Warmer





Number of posts

: 247


Registration date :

2007-10-19



A simple thank you for your efforts is not much to add to what has already been said, but I too am grateful for the opportunity to watch these young ladies play and succeed.
Playmaker





Number of posts

: 1032


Registration date :

2007-05-01



I'm with KFTC. Awesome senior class, total team effort, and no reason not to treat them as a whole. Go team!
All-WCC





Number of posts

: 1738


Age

: 73


Location

: Portland, Oregon


Registration date :

2007-10-31



It's hard to think of specific memories for each of the players... too many games over the years - my memory is fuzzy.

But one thing's for sure... this has been truly a tremendous class. I mean - there's an all-world caliber player in Stephanie Lopez, a Player of the Year candidate in Angie Woznuk, two four-year starters who brought their lunch pails to the field every game in Natalie and Emily, a player who really improved and blossomed into a skillful and reliable rock in Kelli, and a player who sacrificed a lot to the team by playing every position and doing whatever the coaches asked of her to help the team win in Michelle.

Truly a great mix of supreme talent, hard work, team players, and a whole lot of wins!!!
Draft Pick





Number of posts

: 3180


Age

: 36


Location

: Portland, OR


Registration date :

2007-06-07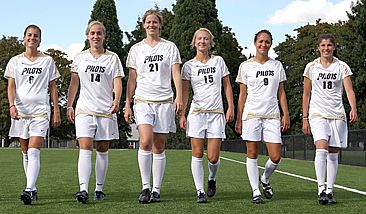 Saw this pic on the official site... figured it was apropos for this thread.
Also saw these quick stats:
Senior Night
Six University of Portland seniors will be recognized prior to kickoff on Saturday as the group will play its final regular season home game at Merlo Field. Michele Scifo, Emily Michaelson, Kelli Cronkrite, Natalie Budge, Stephanie Lopez and Angie Woznuk have helped the Pilots reach new heights in women's soccer, including a memorable 2005 undefeated national championship season.
Michele Scifo (Lynbrook, N.Y.): 86 games, 5 goals, 7 assists
Emily Michaelson (Portland, Ore.): Four-year starting central defender, 84 starts, 1 goal
Kelli Cronkrite (Corvallis, Ore.): 57 starts in 80 games, 3 goals, 4 assists
Natalie Budge (Tualatin, Ore.): 9th in career scoring (86 pts), 6th player with 30 goals, 25 assists
Stephanie Lopez (Elk Grove, Calif.): Four-year starter, USA National Team, 3 goals, 12 assists
Angie Woznuk (El Cajon, Calif.): Four-year starter, 17 goals, 34 assists (No. 6 all-time)
Draft Pick





Number of posts

: 3180


Age

: 36


Location

: Portland, OR


Registration date :

2007-06-07



What a first-rate post! That picture justs sums up this thread perfectly. And it's just such a great shot of all of them. Wish I knew who the photographer is - this picture deserves an award or something.
Playmaker





Number of posts

: 1238


Age

: 77


Location

: Portland


Registration date :

2007-09-14



By my figuring of the results since these terrific ladies began to dazzle us with their grace and exquisite skills, the Super Six have had a part in a 93-15-5 record dating back to the 2003 season. Has there been a better stretch?
On of my favorite memories of the group was watching Angie and Stephanie repeatedly run their give and go along the left side the year they returned from their U-20 World Championship season. They pulled it off the entire season even though teams were "wise" to it and opened up innumerable chances for Christine. They were so calm and precise despite all the efforts of the opposition. And has there ever been a more accurate passer than Stephanie?
Natalie has proved the most surprising to me as I saw a weak player easily knocked off the ball, or to the ground, her first year, but, true to her nature, she always lived up to the Energizer Bunny and came back to make them pay in the end.
I will be cheering (and praying) for seven more games for these gals to show the entire country how classy they are.


Bench Warmer





Number of posts

: 133


Registration date :

2007-09-04



I think there's an asterisk!! Well...a couple more asterisks (**)....depending on how you look at it...should the Rapinoes be considered as part of this class too? Racheal at least? How's that as a Super-Duper Class?

My fondest memories...

Angie versus UCLA in the Final!! The Bruins had no answer. She got the first early goal!! BUT...and then there was that wonderful stop on a dime turn....with quick back-pass to an hard-charging Christine Sinclair! Beautiful pass...and the "no-doubt about it" put away to the top right corner! ....Whew!! I have video tape of the game I've watched many times over! .....THAT....still gives me goosebumps!

Steph...smartest defensive player ever! Countless times we've seen her subdue many offensive threats with inhumane defensive positioning skills alone. Its almost comical how she just cuts right in and literally takes over the attacker's dribble. Steph does it so non-chalant too!! It reminds me of a square dance....the soccer ball's changes partners...(over to Steph so easily)...there you go....DOE-SEE-DOE!!!

How about Natalie!? WOW! I haven't looked at the numbers myself but next to Tiffeny....Natalie may have just logged one the best offensive careers as a Pilot in representing LOCAL talent!! That's Fantastic!

I've acknowledged Emily and Michelle previously in another post..."Most Improved Player". Lunch-pail gals...who just do their job well! Always reliable, consistent and hardworking! Same thing with Kelli. She's definitely upped the ante on her performances this season and moved out of the shadows...became a role model for young Pilot defenders. She's probably the prototype on how to improve year after year....and then get to the top of your game by Senior year!

THANK YOU SENIORS....GO PILOTS!!
First man off the Bench





Number of posts

: 544


Location

: Tigard


Registration date :

2007-07-11



imagine pilot nation if sinc hadn't gone off to a world cup an redshirted an then the following year woznuk, lopez an rapinoe hadn't gone to the u-19's how many more ncaa's u of p would have won. does anyone here really think that we wouldn't have won at least one if not two more championships??

i know, wishful thinking an i will always cherish this class as one of my all time favorites.
Pilot Nation Regular





Number of posts

: 376


Age

: 57


Location

: portland native


Registration date :

2007-11-04




---
Permissions in this forum:
You
cannot
reply to topics in this forum