There hasn't been much news about the U-20s lately, but they are having a camp in Park City, Utah (Elli's home town) because it will help them get acclimated to the altitude of playing at the World Cup qualifying tournament at 7,000 ft. in Puebla, Mexico, later this month.

You can see the article here... it's mostly about Elli, but there is some factual info on the team too:

http://www.parkrecord.com/sports/ci_9542666

Stonehouse

Draft Pick





Number of posts

: 3236


Age

: 40


Location

: Portland, OR


Registration date :

2007-06-07



Nice read,
StoneMAN
. I wonder if Elli's future with the Pilots is at outside back, outside mid or both? Elli to me looked extremely improved in spring ball compared to last fall. She was passing into the center more, and putting incredible moves on people. Like M. Enyeart, her constant movement on offense and tenacious attacking on defense are hallmarks of great players.
From either position, I believe the Pilots will have her continuing to bring the ball up from the outside and make plays or passes that lead to many assists and occasional goals.

FANatic

Playmaker





Number of posts

: 1238


Age

: 81


Location

: Portland


Registration date :

2007-09-14



Elli's future position is indeed an interesting question. Her on-the-ball skills and passing ability seem to make her a natural fit for the offense, but given how many defensive players we lost last year (Lopez, Cronkrite, Michaelson), we may need her to slide back for at least next season. I'm assuming Tsao and a healthy Sweeney will be the marking backs, with Sophie returned to her natural center mid spot. The final spot on the back line would be either Korie Nicholson or Sara Jackman. But if Sweeney isn't fully healed, Nicholson or Jackman aren't up to the task, or if Olivier is not quite ready to start right away, then I'm thinking Garrett will have to get creative and maybe use Elli in one of those spots. (In my mind, Elli would be a marking back and maybe Tsao would range over into the middle.) Definitely something to keep an eye on.

One thing's for sure, Elli's speed could be a huge asset on the back line and help make up for her slighter stature. Could you imagine her coming out of the back to involve herself in the attack like Sweeney did so well in 2006? Wow.

But having said all that, I still think Elli's natural fit is on the outside. There, she can use her playmaking abilities and ball skill a lot more and can get up into the offensive third a lot more, where she is a dangerous ball-striker and has a knack for setting up teammates.

Besides... who else can play on the outside? Assuming we will have a healthy set of Rapinoes, I see the projected line-up looking something like this:

F: Enyeart
F: R. Rapinoe
RM: Reed
M: M. Rapinoe
M: Keelin Winters
LM: Chandhoke
LB: Sweeney
D: Schmidt
D: Nicholson/Jackman
RB: Tsao

That isn't including any of the incoming freshman, and I think players like Michelle Olivier, Danielle Foxhanven, and Charney Burk will be able to step in and compete right away. So the pressure will definitely be on. The two "weakest" (and I mean that relatively, since the roster is so talented) spots are probably where I've got Chandhoke and Nicholson/Jackman. I'm not sure how natural Kendra is at the outside mid (seems more suited as a striker) and Nicholson and Jackman are just enigmas since they haven't gotten a ton of playing time. Wouldn't surprise me at all to see Foxhaven on the outside and Olivier on the backline.

Stonehouse

Draft Pick





Number of posts

: 3236


Age

: 40


Location

: Portland, OR


Registration date :

2007-06-07



From what I have heard, I wouldn't be at all surprised to see Olivier start and McCluskey play good minutes in central defense. I think they both have the sort of size and ability in the air UP needs in the middle. You'll see Kreminski in the middle before you see Ellie there.

Geezaldinho

Pilot Nation Legend





Number of posts

: 11512


Location

: Hopefully, having a Malbec on the square in Cafayate, AR


Registration date :

2007-04-28



Y'all think Coach Linus Rhodes at OSU is wondering to himself....MAN...what a problem Coach Smith has up there at the Bluff???
...which Freshman Parade All-America can break into my the starting lineup? Which will I have to sit for a little bit?....Golly Gee?!? What a dilemma I have?!
Just kidding....good luck to Linus!! We need the Beavers to get better and into the tournament!
GO PILOTS!!!

GUPhantom

First man off the Bench





Number of posts

: 544


Location

: Tigard


Registration date :

2007-07-11



I've enjoyed watching Ellie Reed progress as a player. Her speed is nothing but astonishing. If she can improve the pace of her on-goal shots to match that of Megan Rapino or Michelle Enyeart (the team's heavy artillery), she would be a cinch for an offensive role. The option of having her speed on D is a great option. One sign of a great coach is that he or she will find new and surprising roles for players who have been seen in only one role before. Seeing Ellie at outside defender for spring games came as a suprise to most of us Pilots-watchers -- a pelasant surprsie, based on her play.

purple haze

First man off the Bench





Number of posts

: 749


Age

: 70


Location

: Section B


Registration date :

2008-02-11



Elli Reed powers through adversity ........
An article about Ellie Reed from her hometown newspaper's website, Park City's
ParkRecord.com
:
Now in her second year playing professionally, Reed, an outside back with the Boston Breakers organization, is plying her trade in a different league. The Women's Professional Soccer league folded in January, and after revisited efforts from owners and management across the league in mid May, it was announced on May 18 that the WPS could not longer work.

The Breakers, formerly of the WPS are now part of the WPSL (Women's Premier Soccer League Elite League).
Reed said her first reaction to the news that the league she dreamt of playing in vanishing was as expected.
"We found out a few months ago that they were suspending the league for 2012 and that was an initial shock," she said. "(The WPS) went through with the draft and everyone thought it was on for 2012, but it came out of the blue.

"Now hearing that the league is not going to be around, everyone is hoping it's not going to be the end of women's soccer in America."
Full article at:
http://www.parkrecord.com/summit_county-sports/ci_20735698/elli-reed-powers-through-adversity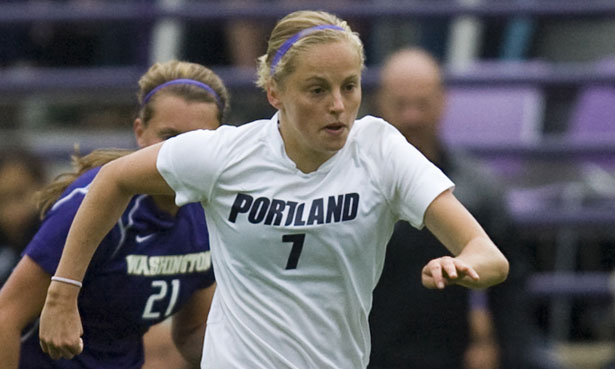 DoubleDipper

Pilot Nation Legend





Number of posts

: 10029


Location

: Flying, Golfing, or at the Game


Registration date :

2011-11-03



Similar topics
---
Permissions in this forum:
You
cannot
reply to topics in this forum