So here's your gameday thread now that the matchup is set. USD just got by Santa Clara 61-59.

All that offseason talk about USD being a dark horse in the WCC race seems so long ago... Obviously we took care of them comfortably both home and away. This is an elimination game and strange things happen in the postseason of course, but the Pilots aren't one to look ahead.

This is on CSN and 95.5 (thanks for bumping us, Winterhawks--now I can watch hockey and listen to the Pilots simulaneously tomorrow).

PurplePrideTrumpet

All-American





Number of posts

: 2880


Age

: 40


Location

: Section 18A, Row 5


Registration date :

2007-11-24



Brandon Johnson is a wild card and as long as we can keep him in check, I see us winning this game.

ShipstadPilot11

Starter





Number of posts

: 900


Age

: 32


Location

: P-Town, Oregon


Registration date :

2009-02-17



Looks all right for the Pilots as time winds down. Sounds like good defense has kept the Toreros at bay. Rancifer (sp?) is a freshman? Yikes.
Note to UP students: I would advise against chanting "AIRBALL" when your team is down big.
I figured USD students would be smarter than that.
Band sounds good on the radio.

PurplePrideTrumpet

All-American





Number of posts

: 2880


Age

: 40


Location

: Section 18A, Row 5


Registration date :

2007-11-24



Good turn-out by students at the game. And the band does look and sound good. Dance team is doing good, too.
There was a little woofing between some UP fans and some others after the game; probably to many cheap Bud Lights before the game. Stay classy, Pilots!
That was fun. I'll try to post a photo or two here in a bit, but they're really raw. I missed BOTH big dunks that happened in the second half. D'oh!

PilotDrummer

First man off the Bench





Number of posts

: 503


Location

: Check behind the basket or in the drum squad. I probably have a cowbell.


Registration date :

2007-11-18



Breaking news from our man in the cowbell section:

[school redacted's band] was TERRIBLE. [Other school's] was even worse. We are getting major props from everybody.
Like Phil always said, "The band always wins."

PurplePrideTrumpet

All-American





Number of posts

: 2880


Age

: 40


Location

: Section 18A, Row 5


Registration date :

2007-11-24



Best part --

You could hear the UP fight song loud and clear on the TV during the handshakes.

Geezaldinho

Pilot Nation Legend





Number of posts

: 11262


Location

: Hopefully, having a Malbec on the square in Cafayate, AR


Registration date :

2007-04-28



Normally I run photos through noise reduction software but that takes a while on my ultra-portable (read:gutless) netbook!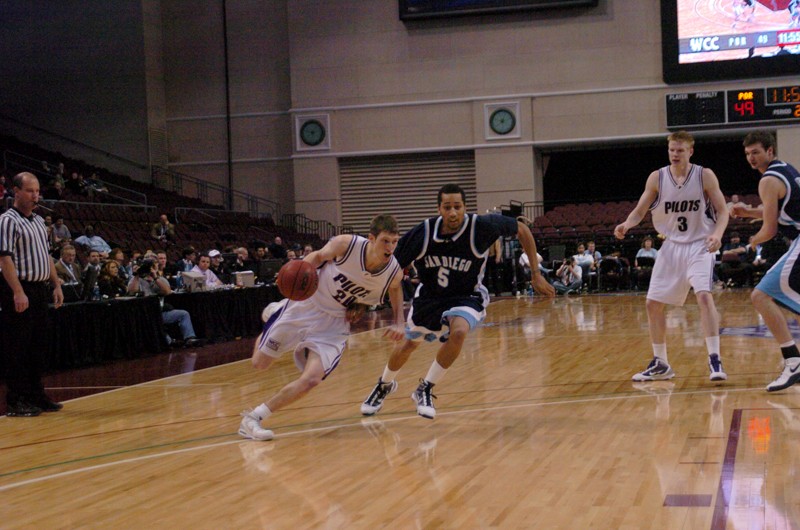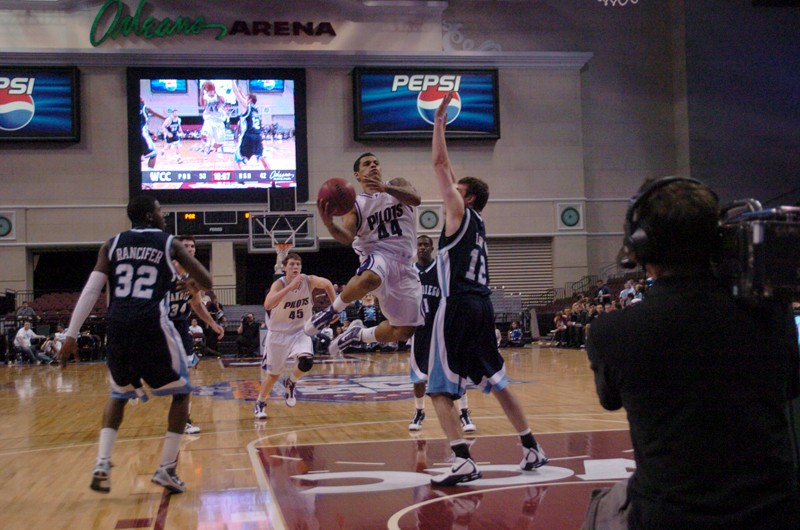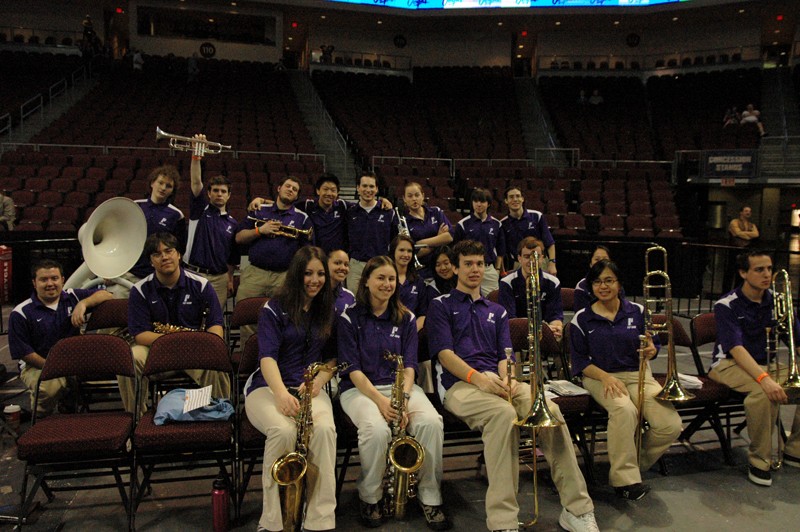 PilotDrummer

First man off the Bench





Number of posts

: 503


Location

: Check behind the basket or in the drum squad. I probably have a cowbell.


Registration date :

2007-11-18



Jim Beseda's report:
West Coast Conference Tournament: Portland 72, San Diego 57
By Jim Beseda, The Oregonian
March 06, 2010, 11:47PM
LAS VEGAS -- Portland's T.J. Campbell missed his first shot in Saturday night's West Coast Conference Tournament quarterfinal against San Diego, which normally isn't a good sign for the Pilots.

The senior point guard didn't do much wrong after that.
44-Campbell_T.J.jpgUPPilots point guard T.J. Campbell had 15 points, three rebounds, eight assists, a blocked shot, a steal, and, yes, he even dunked once late in Saturday's 72-57 win over San Diego.
Campbell finished with 15 points and eight assists, leading a balanced attack that carried the Pilots to a 72-57 victory over the Toreros before a crowd of 7,727 at the Orleans Arena.

With the victory, the No. 3-seeded Pilots (21-9) get what they were hoping for -- a date in tonight's nationally televised semifinals on ESPN 2 against No. 2 Saint Mary's.

"We set our goals to get to the semifinals without having to play tonight's game, to be honest," Pilots coach Eric Reveno said. "That's the value of a second seed and it feels a lot like last year, except we really had to work hard to get tonight's win.

"I'm not so sure that's not a good thing. I think you just want to be playing. At this time of year, it's a bit of a chess game ... sort of, 'He knows that I know that they know.' It comes down to not trying to over-think it and guys making plays."

Tonight's game is a rematch of last season's semifinal, which the Gaels won 71-61, but the stakes are significantly different for both teams this time.

West Coast Conference Tournament
(All games in Las Vegas)

SUNDAY
No. 1 Gonzaga vs. No. 5 Loyola Marymount, 5:30 p.m. (ESPN2)
No. 2 Saint Mary's vs. No. 3 Portland, 7:30 p.m. (ESPN2)

MONDAY
Championship, 6 p.m. (ESPN)
"I think we're all looking forward to it," Campbell said. "Last year, they kind of beat up on us bad, so we're coming back looking for revenge. And, you know, we're going to play hard."

Unlike last season, when the Patty Mills-led Gaels were a virtual lock for the NCAA Tournament as an at-large team, Saint Mary's is on the bubble this season and needs to not only reach Monday's championship game, but also win it to get into the 65-team field.

As for the Pilots, the only way they're going to reach the NCAA Tournament for the first time since the 1995-96 season is to claim the WCC's automatic berth that comes with wining the conference tournament.

If they fall short, the Pilots are confident that they'll still land in National Invitational Tournament, the College Basketball Invitational, or the CollegeInsider.com Postseason Tournament.

Certainly, the CIT representative at Saturday's game had to be impressed with a Pilots team that shot 49 percent and had big advantages in points off turnovers (21-5), points in the paint (30-18), and bench scoring (16-10).

Jared Stohl finished with 13 points, Robin Smeulders added 12 points, and Ethan Niedermeyer also scored in double figures with 11 for the Pilots.

The Pilots made a concerted effort early in the game to get the ball inside to Luke Sikma, Jasonn Hannibal and Smeulders on offense. The trio of big men combined for 10 points, pacing Portland to a 13-10 lead, but more importantly open things up for the Pilots' perimeter shooters.

After San Diego's Patrick McCollum made one of two free throws to give the Toreros a 14-13 lead, Jared Stohl hit a pair of three-pointers and two free throws during Portland's next three possessions to put the Pilots back on top 21-14.

The Pilots' lead fluctuated between five and 10 points through the remainder of the half, settling at 37-28 at the break after Campbell hit his second three-pointer with 2.5 seconds remaining

After Campbell set up Kramer Knutson for a dunk to open the second half, the Pilots extended their lead to 13 points twice -- on a Stohl basket that made the score 41-28 and then on a Ethan Niedermeyer three-pointer that made it 53-40.

"We knew they weren't going away at all," Stohl said. "We just had to keep playing solid on defense, but they stayed in it with some threes."

The Toreros used a three-point from Ken Rancifer and two free throws from Cameron Miles to creep within 58-50 with 6:22 to play, but that was as close as they could come during the final 15 minutes.

"You've got to give San Diego a lot of credit for making every possession so valuable," Reveno said. "You get up eight or 10 points and you feel like, 'OK, we're going to get some separation, ' but you can't relax at all.

"At the start of the second half, we scored a couple and then we relaxed a little bit and they came right back us, so that was something we had to fight a little bit."

Rancifer led all scorers with 20 points and was the only player to score in double figures for San Diego as the Toreros ended their season at 11-21.

LINK
---
Permissions in this forum:
You
cannot
reply to topics in this forum