Batter up! Please discuss pilot baseball here!

-SciFi
Administrator





Number of posts

: 313


Age

: 41


Location

: Welches, OR


Registration date :

2007-04-28



Talk about perseverance, this thread was started 9 years ago and was not used until today, and also today a Pilot who was drafted 11 years ago finally made it to the major leagues for the first time ever.
I believe Austin Bibens-Dirkx played only one year at UP after transferring from Chemeketa CC for the 2006 season and before being drafted in the 16th round by the Mariners.  But yesterday the Texas Rangers purchased the contract of the 32 year-old career minor league pitcher from AAA Round Rock, and this morning he was added to the Rangers' roster and joined the team in Seattle.
Star-Telegram wrote:  "This is a blessing. It is a dream come true," Bibens-Dirkx said. "It's been a grind. I've seen all the highs and seen all the lows. I'm happy, and I can't even put it into words, really."

He received the phone call Saturday morning and hopped on a flight to Seattle. He didn't learn until Sunday morning that he would be added to the roster.

The first thing he did Saturday was call his wife.

"She started crying, and I started tearing up," said Bibens-Dirks, an Oregon native and Idaho resident who had plenty of friends and family make the drive to Safeco Field. "It's just a full mix of emotions."  
Read more here: http://www.star-telegram.com/sports/mlb/texas-rangers/article149167459.html#storylink=cpy
Also read his Wikipedia resume with 7 different organizations: https://en.wikipedia.org/wiki/Austin_Bibens-Dirkx
Pilot Nation Legend





Number of posts

: 6687


Location

: Across the Bridge


Registration date :

2011-11-03



Bibens-Dirkx patience might be paying off. He is slated to start for the Rangers on Wednesday: https://www.mlb.com/gameday/rays-vs-rangers/2017/05/31/490902#game_state=preview,lock_state=preview,game_tab=,game=490902
Bench Warmer





Number of posts

: 256


Location

: Famously Hot


Registration date :

2015-03-12



Mike Heika - Sports Day wrote: The reality of Austin Bibens-Dirkx's situation hit home Tuesday.

The 32-year-old right-handed pitcher was told he would make his first start in the Majors Wednesday against the Tampa Bay Rays, and reporters asked if family would be able to fly in.

"If they can, then maybe," Bibens-Dirkx said. "But they have jobs, and it's the middle of the week, so it might be a little tough for them to get out on short notice."

Bibens-Dirkx has followed the same work ethic as his family to get where he is. After 11-plus seasons in the minors, he was called up to do some bullpen work for the Rangers this season. It was a dream come true for the Oregon native and University of Portland product when he made his MLB debut in Seattle earlier this month. He has since added two long relief sessions, and that means he's a perfect candidate to get the start for injured A.J. Griffin.

"I think really after what Bibens-Dirkx has done for us, I think he had the inside track," Rangers manager, Jeff Bannister, said of choosing Bibens-Dirkx over Dillon Gee for the start. "It was just was he going to be able to recover enough after throwing 179 (pitches) in a week to be able to go? And I love the fact that he's good to go. He competes. He's got some pitches, got some weapons, and he's going to get an opportunity to start a major league game."

That didn't seem possible a month ago, but the rise of the veteran rookie isn't as surprising when you study his experience. Bibens-Dirkx has thrown more than 1,000 innings in the minors and another 337 in foreign leagues. He has participated in the Venezuelan Winter League in 2013, 2015 and 2016, and faced some of the Major's best hitters.

"I've been around long enough to face some good players," he said. "A lot of the Venezuelan guys for sure, I've played against pretty much every single one of them. I attribute a lot of me being ready for this level because of Venezuela. I think that's been a big reason why my nerves here have been pretty calm."

Bibens-Dirkx has a 3.97 ERA in four appearances and has earned the trust of his manager.   
I don't remember Bibens-Dirkx from his time at UP, but I will certainly be rooting for him tonight....his perseverance and his family's patience have to be admired...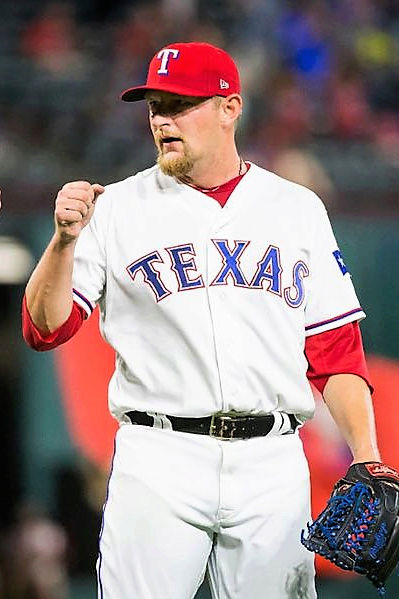 Pilot Nation Legend





Number of posts

: 6687


Location

: Across the Bridge


Registration date :

2011-11-03



Unfortunately, every time MLB or ESPN cut into the Rangers game early on it was to see another hit or run by Tampa Bay.

But despite Austin's numbers, 4.2 IP, 5 H, 3 R, 3 ER, 3 BB, 2 K, it was still a decent outing for a guy who took 11 years to do it.  The Rangers were trailing 3-2 when Austin left the game, but they eventually took the lead before losing in extra innings....so no decision for the veteran rookie.

One has to hope Texas gives him another opportunity to start...but even sticking on the roster as a long reliever has to be a joy for him and heart warming for all who know his story.
Pilot Nation Legend





Number of posts

: 6687


Location

: Across the Bridge


Registration date :

2011-11-03



Austin Bibens-Dirkx let up 3 hits and 1 run in 7 innings against Washington yesterday, and Max Scherzer let up 3 hits and 3 runs in 7.1 innings, as the Rangers downed the Nationals, 5-1.
Bibens-Dirkx, who set a Rangers rookie record by retiring 19 batters in a row, is now 2-0 on the year....
You might enjoy this: http://www.gammonsdaily.com/newberg-the-curious-case-of-heterochromia-iridum-v-bibens-dirkx/
Pilot Nation Legend





Number of posts

: 6687


Location

: Across the Bridge


Registration date :

2011-11-03



Austin is now 3-0 after beating the Yankees last Saturday, 8-1, and starts tonight against the White Sox in Chicago.

Here's a quick video taped interview with him after the Yankee game:
http://www.star-telegram.com/sports/article158073259.html

And a bit of an update on his time in the majors, including an understanding wife!
https://www.fanragsports.com/mlb/tx-rangers/long-journey-big-leagues-worth-32-year-old-rookie-bibens-dirkx/
Pilot Nation Legend





Number of posts

: 6687


Location

: Across the Bridge


Registration date :

2011-11-03



I searched and searched and searched and couldn't find where our past discussions of former Pilot pitcher JR Bunda went. Anyway, turns out JR is pitching for the Lincoln Saltdogs (an independent league baseball team): http://www.klkntv.com/story/35947330/from-near-death-to-professional-baseball-jr-bundas-journey-to-the-saltdogs

Austin is still listed with the Rangers and pitched as recently as July 18th.
Bench Warmer





Number of posts

: 256


Location

: Famously Hot


Registration date :

2015-03-12



---
Permissions in this forum:
You
cannot
reply to topics in this forum