Well, Colorado tied Texas in the Big-12 championship, losing in the shootout, but "technically" tieing, according to their coach. I did not note them among those listed in the RPI post made earlier by UPSoccerFanatic, so this may be a team with a late late season surge. Earlier in the year the Buffs had lost to Texas 4-1, turning around that result in the Big-12 tournament when it counted.

Stating the obvious is not always a negative, and the obvious here is that the Pilots need to be on their game and guard. No let downs ladies . . .Go Pilots!

It would indeed be fun to see their football mascot trotting the sidelines, fertilizing the sod.

I think it is safe to assume we will out gun them. Is there any benefit to the Buffs being at altitude all year? Maybe a little, but I like our chances. They too will almost certainly rely on packing it around the net and hoping for a breakaway, or freaky goal.

Anyone know who it is on the Buffs we should be trying to shut down, whether they too are believed to have an excellent keeper?

Looking forward to the match . . .
Playmaker





Number of posts

: 1020


Registration date :

2007-05-01



Two to watch are Nikki Marshall and Gianna DeSaverio, both are very fast and very direct. Nikki played in the back for CU against Hawaii, but typically runs up top for CU. They feed off counters and I expect the same in the next game.
Recruit





Number of posts

: 30


Registration date :

2007-11-05



From the Denver Post:

"DU simply was outclassed by Portland. The Pioneers upset then-No. 1 Stanford at Prentup early this season but couldn't recapture the magic against the Pilots, who launched 13 shots on goal against Mackenzie Snyder.

'They have great players, but their movement off the ball is very, very difficult. It's just another level,' DU coach Jeff Hooker said. 'It's almost like playing an international team.'"
All-WCC





Number of posts

: 1737


Age

: 73


Location

: Portland, Oregon


Registration date :

2007-10-31



I like what I'm hearing/reading from our opposition. Jerry Smith said had a comment about the Pilots which was along the same lines. My favorite quote came from Tara Erickson of UO during the 2005 Championship season. As that Pilot team disassembled her Ducks, she mouthed....."OMG!!!".....to the Portland State coaching staff who were there scouting us. That sums things up!!
When the PILOT MACHINE is on and brings their A-game..."movement off the ball is very, very difficult" for any team to manage defensively. Our opposition....literally can only see a "blur" of Pilots roaming the pitch. I always tell my daughter...usually early in the second half....when teams are worn-out by the relentlessness of our offensive possessions..."they're beginning to chase ghosts...Pilot Phantoms".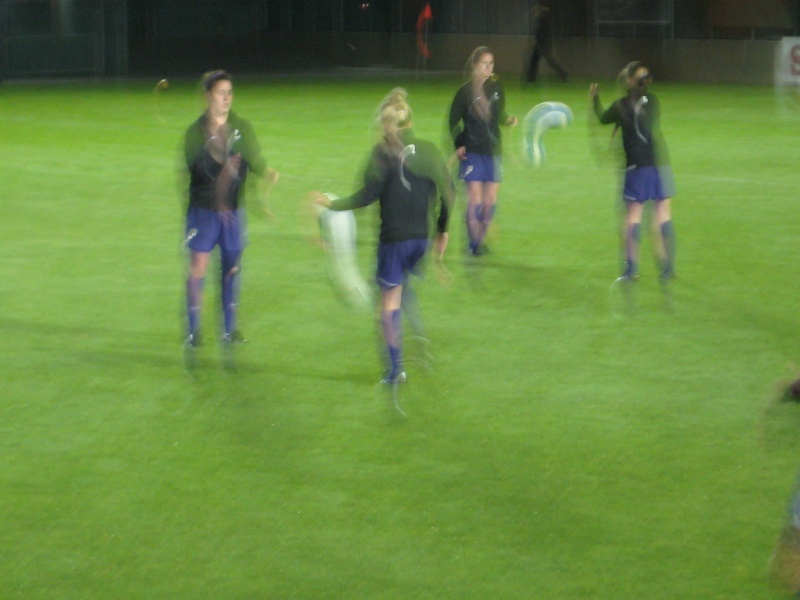 NOTE: This is not a testament to my "superior" photographic skills! I just couldn't make myself delete it. I knew it might have a representative value one day.
First man off the Bench





Number of posts

: 544


Location

: Tigard


Registration date :

2007-07-11



Great photo, Phantom. It sure sounded like Denver was chasing Pilot Ghosts yesterday...

wrv - Colorado started the season with two GK and the starting job was up for grabs. Looks like one clearly won that battle. And her season stats are really quite remarkable.
Kara Linder has only played 667 minutes, but her GAA is 0.27 and her saves % .913. She has allowed only
TWO
goals to get passed her.
The other keeper, Kirstin Radlinski, has played 1,313 minutes. Her GAA is 1.51, saves % .707, and she has allowed 22 goals.
Not surprisingly, Kara started in goal yesterday against Hawaii, played all 90 minutes, and recorded the 2-0 shutout.
Playmaker





Number of posts

: 1238


Age

: 77


Location

: Portland


Registration date :

2007-09-14




---
Permissions in this forum:
You
cannot
reply to topics in this forum